THE ARTIST CARLOS MONLEÓN
Artist-in-residence at Northern Sustainable Futures
With interests focused on environmental installations and food experiences, the artist-in-residence Carlos Monleón is working on a project in Moskosel.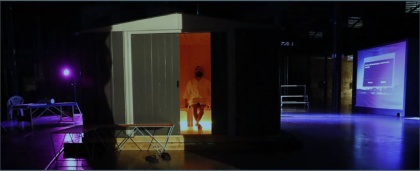 When. August 2018 (first part)
Where. Moskosel, within Arvidsjaur municipality
Who. The invited artist who participates in the residency is Carlos Monleón, from London

Organizers. Northern Sustainable Futures in collaboration with ArtNorth and Region Norrbotten
About art, food and environment
My artistic practice engages with a variety of processes and materials that result in sculptural and participatory artworks.
These works and situations span across different levels of bodily sensation and awareness; from the microbiological to the performative and social bodies.
My main line of line of work traces processes that stem from nutrition, digestion and cognition and result in the distribution of bodily processes across multi-species entanglements and metabolisms.
This research manifests as context-specific artworks and workshops that engage audiences through participation.
I have developed projects at spaces such as Autoitalia, Seventeen Gallery and Diaspore Project Space, London, as well as institutions such as HIAP Helsinki, Hangar, Lisboa and Matadero, CA2M and La Casa Encendida, Madrid.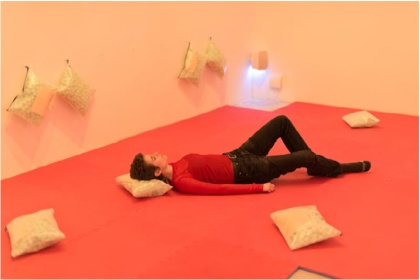 My mission during this first visit to Northern Sustainable Futures/ Lapland AIR would be two-fold. On the one hand I will help the team come up with ideas for potential uses of the different spaces and propose facilities that would be attractive both for prospective residents and locals alike.
These ideas would be fitting within the given framework and mission of Lapland AIR and sensitive to the land and its surroundings.

For this I will draw from my experience working in projects such as Inland/ Campo Adentro that works bridging the contexts of Contemporary Art and "the rural" and also from residencies in diverse organisations based in the countryside such as Nicola Lenivets (Russia) The Headlands (USA) or the Botín foundation (Spain) SAUNA, Matadero Madrid.

On the other, I will propose an artistic project for its realisation at a later date that brings together local crafts, crafts people and resources.
The initial ideas revolve around the sauna as a space for conviviality, wellbeing and the sharing of experiences. Saunas are places of complex social rituals and rich in material culture that could bring together many practices and resources of the land.
Of special interest to me are the design and build of the sauna itself, local textile crafts for the production of towels, hats, gowns and other accessories; and the foraging and/or cultivation of herbs and other plants to be used as restoratives teas and aromatic concoctions.
For this I will bring my previous experience in designing and running a public sauna and art space for Matadero, a contemporary art institution in Madrid, as well my work in food and fermentation.
For both of these intentions a series of field and site visits would be undertaken during these first two weeks. These would include landscapes, craft people, timber yards, saunas…

Carlos Monleón's website. http://food.carlosmonleon.com/