A production residency at Studio Acusticum
About the residency
When. January 2019
Where. Piteå
Organizers. Studio Acusticum and Resurscentrum för konst (ArtNorth) in collaboration with Röda Sten (Gothenburg)

Who. Vivian Caccuri, lives and works in Rio de Janeiro, Brazil
Website. www.viviancaccuri.net
In a new collaboration between the north and south of Sweden artist Vivian Caccuri, has been invited to Acusticum in Piteå to work with a new sound artwork "A Soul Transplant" to be exhibited at Röda Sten in Gothenburg during the spring of 2019.
Vivian Caccuri uses sound as a vehicle to combine experiments in sensory perception with issues relating to history and social conditioning. A Soul Transplant is a sound and light installation produced by the artist during a residency at the Acusticum in Piteå, exploring a mythical story about the genetic interdependency between humans and mosquitos.
Mosquitos buzz to each other as a love call, but their buzz in the ears of humans is hated. A Soul Transplant presents a possibility of a myth that narrates the genetic interdependency between humans and mosquitos. In this mythical past, humans were perennial and indistinguishable among themselves, like termite or rice. When the spirits of malaria, yellow fever and other arboviruses entered the mosquito body, mosquitos became human killers. What could be seen as a disastrous mythical event, a tragedy, it can also be understood as the surge of the individual. Right after the loss of their infinity, humans started experiencing fear, love, anxiety, courage, ambition, the sense of belonging, loneliness, the sense of time, etc.
The composition, written by the artist and recorded during a residency made in collaboration with Resurscentrum för konst and Studio Acusticum in Piteå (a part of Swedish Lapland Artist-in-Residence), combines human voice, pipe organ, mosquito sounds and wind instruments. It is reproduced mostly in the dark in a multi-channel large-scale sound-installation at the Cathedral room at Röda Sten Konsthall.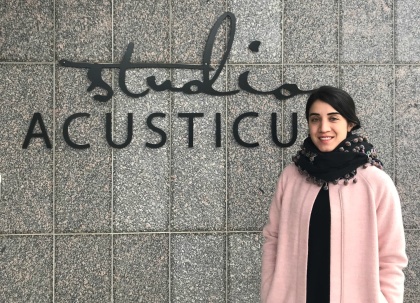 Vivian Caccuri was born in São Paulo, Brazil, 1986. She has developed projects in many cities in Brazil and abroad, including Manaus (in the Brazilian Amazons), Accra, Detroit, Helsinki, Vienna, Venezia, Kiev, Valparaíso, New Mexico, and many more. Throughout her career she has collaborated with several musicians such as Arto Lindsay (USA/Brazil), Gilberto Gil (Brazil), Wanlov (Ghana) and has recently released her first musical project (Homa). Her sound works and compositions have been broadcasted in radio stations such as Resonance FM (London), Kunstradio (Vienna) and Rádio Mirabilis (Rio de Janeiro). Vivian has participated in the 36 Sao Paulo Biennale (2016) and in the Kochi-Muziris Biennale (2018). At Princeton University she wrote her first book Music is What I Make (2012), published in Brazil and awarded by Funarte Prize of Critical Production in Music in 2013. Lives and works in Rio de Janeiro, Brazil.