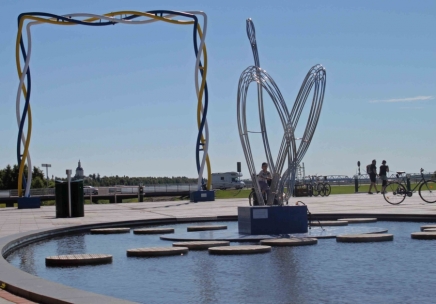 A brief history
Easternmost point of Sweden, Haparanda (and its municipality) is located along the Torne river marking the Swedish/Finnish border. Already in the Middle Ages it was one of the most important commercial centres of the area. Haparanda was established as a city in the 19
th
century when Sweden lost the Finnish territories.
Being a border town, during WWI and WWII, Haparanda had a significant strategic role, especially receiving and accommodating the refugees coming from the East.
Today, with around 10,000 inhabitants in the whole municipality, it is still economically and socially connected with Tornio, its Finnish 'twin city': the two together are called "HaparandaTornio" despite the different currencies (Swedish crowns and Euro) and time zones (Sweden is 1h behind). Not far from the town, and along the rapids of the Torne River lies the historical village of
Kukkola, marked by a unique fishing tradition that continues still today.
Remarkable facts about Haparanda
Border town. Being on the border between Sweden and Finland, Haparanda experiences a life on the edge between two cultures: situated in Swedish Lapland, it is close to the Arctic Circle and mid-way between Luleå and Rovaniemi.
The local cultural life is rich and based on a programme made of cultural events, public art, and a series of exhibition places, such as the Aine Art museum in Tornio and various temporary exhibition places in Haparanda (the train station, the old water tower, the
exhibition room within the library etc).
IKEA. Opened since 2006, the only IKEA within Norrbotten is located in Haparanda making it an international shopping destination as people from Finland and Russia come to visit. The complex is located within a large commercial area called HaparandaTornio filled with different outlets and shops.
Languages. The multiculturality of Haparanda lies also in the languages spoken by the local population, who are commonly bilingual (Swedish/Finnish). The Meänkieli dialect is widespread within the whole of the Tornio Valley, constituing one of the minority languages of Sweden. The importance of this cultural aspect is reflected by the Haparanda Language School, an elementary school where the students are half Swedish and half Finnish.
How to get here
By plane.
Kemi-Torneå airport
, in Finland, is the closest one, being only 23 km away from Haparanda. On this side of the border, the nearest airport is Luleå airport (130 km).
By train.
Haparanda is not provided with a train station: the closest ones are in Luleå and Boden.
By bus.
Thanks to
Länstrafiken Norrbotten
, Haparanda is directly connected to:
Övertorneå
(1h 30min); Luleå (2h 20min);
Boden
(3h);
Pajala
(3h). Other services provide connection with Finland.
Local websites
www.haparanda.se
|
www.haparandatornio.com
Our residency host and info about the program
HaparandAiR is an art residency programme run by the municipality of Haparanda, in collaboration with Swedish Lapland AiR and other local partners. Since 2019, the municipality hosts a month-long residency where an artist is called and chosen by invite or by open call. More info about the residency can be
found here
.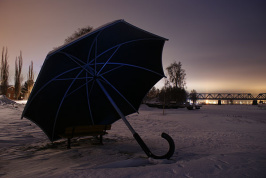 Pilar de Burgos, Protector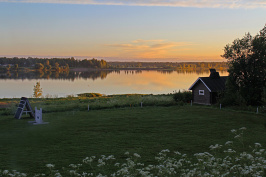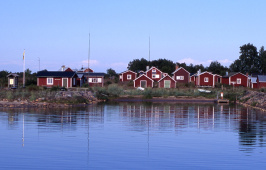 Haparanda Skärgård National Park