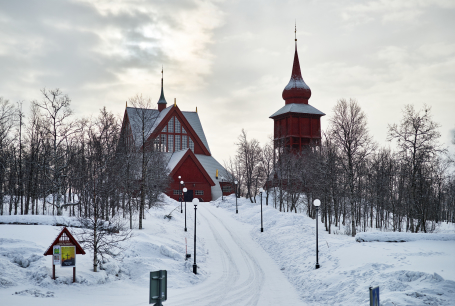 A brief history
The city of Kiruna was founded in 1900, but archeological findings suggests that working communities were active in the area just after the ice age (about six thousand years ago). Kiruna is the northernmost municipality in Sweden, it borders Finland on the east and
Norway on the west. Kiruna is a multicultural and multilingual city; while Swedish is the official
language, Finnish, North Sami and Meänkieli are recognised as minority languages.



Remarkable facts about Kiruna
Kiruna is a city of contrasts. In Kiruna you can find the world's largest underground iron ore mine and the only scientific space centre in Sweden conducting research on the Aurora Borealis. The city is located 145km above the Arctic Circle and sits amongst an incredibly diverse natural landscape of high mountain peaks and endless marshland. Kiruna is host to both the Northern Lights during winter and the Midnight Sun during summer. To get the full experience of the 24-hour daylight phenomenon, one can walk along the "Midnight Sun Trail" (Midnattssolstigen), a 5km walking path easily reached from the centre of town that takes you through the forest and up Luossavaara mountain.

Kiruna is moving.

Due to the prosperous iron-ore industry in Kiruna, a large part of the old city is relocating 3km east. The process is estimated to last for at least twenty more years. Despite this radical transition phase, Kiruna remains an active city with a dynamic living and working community.

Kiruna offers a lively cultural scene.

The city is characterised by its award-winning architecture that includes the iconic wooden church – one of Sweden's largest wooden buildings. Kiruna municipality's extensive art collection has developed in parallel to the city. The collection houses works by artists such as Nils Nilsson Skum, John Bauer and Britta Marakatt-Labba.
In the city the regional art museum Konstmuseet i Norr is placed under the same roof as Kiruna's new City Hall, 'Kristallen' (The Crystal ), Kiruna Konstgille – a lively and active art association will soon move in to new facilities in the culture house that is opening in 2022 and Konstfrämjandet Norrbotten that is working in the whole of Norrbotten is since 2020 based in Kiruna.
Kiruna is home to a thriving indigenous community. The Sámi are the indigenous people of northern Europe and Kiruna is home to the Swedish Sámi Parliament. The geographic area of Sápmi stretches a territory crossing Norway, Sweden, Finland and the Kola Peninsula in Russia.

How to get here
By plane. Flying to Kiruna is quite simple, since there are daily connections from Stockholm (1h 30min). The airport is then just 10 km away from the city centre.
By train. Kiruna has also a train station, connecting the city with other centres, such as Abisko (1h/ 1h 30min), Gällivare (2h 30min), Narvik (Norway, 3h), Luleå (3h 30min/ 5h).
By bus. Länstrafiken Norrbotten operates within the area, linking Kiruna with Jokkmokk (3-4h), Luleå (5h), Boden (6h 30min).

Local Websites
www.kiruna.se | www.visitkiruna.com

Our residency host and info about the program
Konstfrämjandet Norrbotten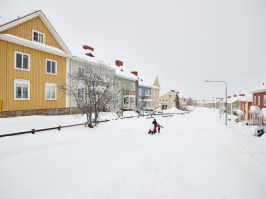 Hans-Olof Utsi/imagebank.sweden.se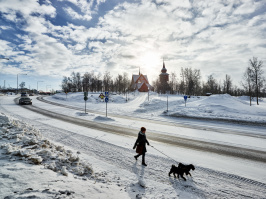 Hans-Olof Utsi/imagebank.sweden.se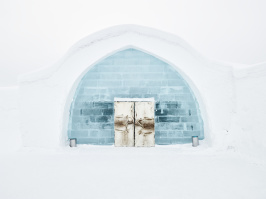 Hans-Olof Utsi/imagebank.sweden.se