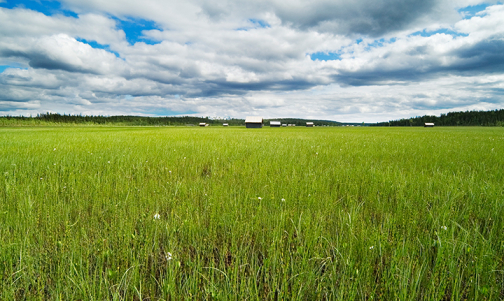 A brief history
Already documented in the 16th century as a small town close to the Finnish border, Pajala is currently populated by 2000 inhabitants and seats the namesake municipality. During the 19th century, the botanist and priest Lars Levi Laestadius, wanted his house, his grave and the town church to be moved from Kemi, the village where he lived, to Pajala. In 1940, during WWII, the town was mistakenly bombed by the Soviet Union during the fight against Finland. Fortunately there were no victims, but some buildings got destroyed.
Currently, Pajala is a lively centre with an economy based on metallurgy and a multilingual environment: Just like in Haparanda, its population is bilingual, speaking Swedish and Finnish as well as Meänkieli, the Tornio Valley's dialect.

Remarkable facts about Pajala
Nature. Immersed in the Tornio Valley, Pajala preserves one of the largest slåttermyr (a local kind of wetlands) of the country within the natural reserve of Vasikkavuoma. Kauppilagården in Kangos, a historical wooden farm building and Sommarladugård in Jarhois, a wooden stable built in the '50s are also located in the municipality.
Culture. If you're interested in literature and culture, you must know that the author Mikael Niemi was born here: his books Popular Music from Vittula (2000; A film based on the book was released in 2004 ) and The man who died like a salmon (2006) are based in Pajala.
Every December, the city hosts the European Festival of the Night, an event dedicated to philosophy, literature and art. The cultural life is completed by a theatre with its own programme and Laestadius' house/museum.
Market. Since the 18th century a 3-day market (Pajala marknad) is held in July selling Sami arts and crafts and other Lapland artifacts. It curently attracts about 40,000 visitors every year.

How to get here
By plane. At Pajala Airport there is a daily connection with Luleå, operated by Jonair.
By train. Pajala is directly connected with Övertorneå (1h 30min), Överkalix (1h 30min), Gällivare (2h 15 min) and Luleå (3h 30min).
By bus. Available bus connections from/to: Överkalix (1h 30min); Gällivare (2h 20min); Haparanda (2h 30min); Kiruna (2h 30min) and Luleå (around 3h).

Local website
www.pajala.se

Our residency host and info about the program
We are currently not hosting any program in Pajala. But we are collaborating with the municipality and we can arrange activities in the area as part of another residency stay in Norrbotten.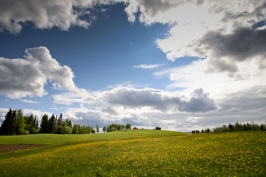 Natural landscape in Pajala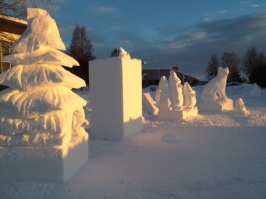 Snow sculptures in Pajala