NORTHERN SUSTAINABLE FUTURES IN MOSKOSEL (ARVIDSJAUR)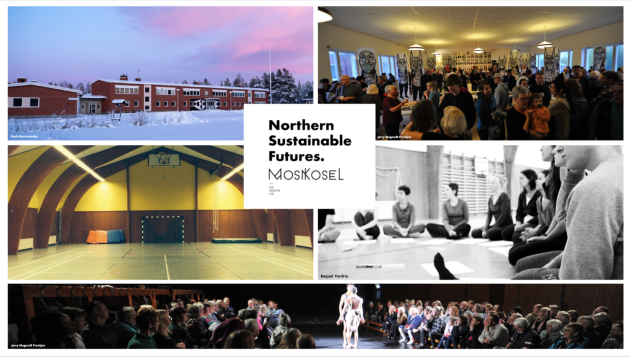 Welcome to Northern Sustainable Futures
NSF is cross-disciplinary project in its germination period located in the beautiful region of Norrbotten, in northern Sweden. A project in the making committed to provide a platform for cultural exchange and community engagement.
We believe it's important to bring people together through a diversity of practices, skills and culture, opening opportunities for development and learning, situated and responding to the local ecology.

NSF is a growing platform, its main hub located in the former school building in the village of Moskosel, and two smaller buildings: Lomträsk108 and Kläppteatern in Arvidsjaur Municipality. Shaping materials and ideas through projects and educational activities that engender a collision between arts, culture, social sciences, community, economic thinking and practice it's central to our ethos. NSF aims to implement a connecting nexus with the cultures of the area providing a space where the local community, national and international practitioners participate, learn and draw inspiration from each other and the local resources. The project proposes to shape a framework that affects change in practical and effective ways engaging audiences with the complexities and challenges of our social and ecological landscape.

We are currently running a program of Artist Residencies in collaboration with Swedish Lapland AIR with the aim to weave novel connections between the local community and international practitioners.

Location.
Northern Sustainable Futures is located in the village Moskosel. There are no shops or any other amenities. The nearest airport and town is Arvidsjaur at 35 km, thereafter Luleå 132 km and Skellefteå 190 km. To know more info about Arvidsjaur, check this webpage >>

Disciplines & topics.
Disciplines and media | Visual Art | Textile Art | Design | Dance | Theatre | Performing Arts | Music | Literature | Curatorial | Film Making | Architecture | Ecology and sustainability

Accommodation.
Northern Sustainable Futures are able to accommodate individuals, smaller and larger groups up to 25 people as well as individual families.
We strive to host artists with private rooms and individual studio spaces to large groups with shared areas; furnishings and linens provided.
The length of the residency can vary between 2 to 8 weeks.

Artists within previous residencies.
Bjørn Venø
Carlos Monleón
Carolina Ongaro
Contact.teu (large group of 25 people) | Augustine Collective (5 people) | Simon Wilkinson (1 person) | Yael Karavan (1 person) | Margarita Zafrilla (1 person)
No open calls at the moment but you can book a stay on your own.
About us.
Northern Sustainable Futures is a cultural project based in the village Moskosel, Arvidsjaur's municipality, interested in developing a creative platform within a rural setting.
Organising and hosting artist residencies, wellbeing groups, tourists and holiday planners, the organisation aims to facilitate the enjoyment and magic of the beautiful wildlife within Swedish Lapland.
The following images show Northern Sustainable Futures' spaces