A production residency at KKV Luleå
Ninna Berger, from Stockholm, is the first "Artist-in-Residence" within the Swedish Lapland network. In June and September 2018 she works at KKV Luleå during a production residency. In the following interview she will tell us more about her experience, vision and creative work.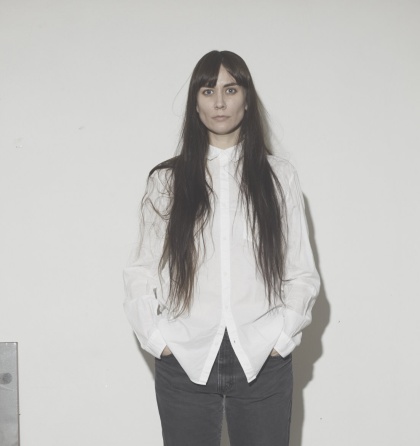 When. June/September 2018
Where. Luleå (with field trips in Norrbotten)
Who. The invited artist who participates in the residency is Ninna Berger, from Stockholm

Organizers. KKV Luleå in collaboration with ArtNorth and with the support of Kulturrådet and Region Norrbotten
Follow Ninna Berger's residential work
Paint & Print workshop with reactive dyes on textile
A workshop by Ninna Berger
When.
29-30th September 2018
Where.
Screen printing room at KKV - Kronan H5 I (Luleå)
Cost.
2000 SEK (coffee break included)
Sign up.
Write an e-mail to Birgitta Lindström, KKV
info@kkvlulea.se
or call 070-266 87
Pigments and other materials can be bought directly at KKV at a reduced price.
The workshop will be in Swedish.
What Have You Done? (Alienation)
A lecture by Ninna Berger

Thursday 14th June 2018, 17.00-18.00
Kulturens hus, Konsthallens Ateljé (Luleå)

The lecture will be held in Swedish.
Meet the artist: an interview
You have already been in London, Rome and Bergen as Artist-in-Residence: what do you find special about Luleå and what experiences will you take with you?
What makes the stay at KKV in Luleå unique is the possibility to work in the available studios and workshops. To be given the opportunity to produce artworks is very special. Often a studio space is included in an AiR stay, but here I will almost live in the workshops. It will be fantastic to do some physical work and to get away from the computer screen for a while. From my experience, it's best if I get to work as soon as possible, a month is a short period of time. However, since it is midnight sun here, the possibility of working through the daylight night is reassuring.

What do you think you will work with during your residency in Luleå? What will be your main focus?
I've planned to work with installations that take up space in the room, as always, I'll work in many layers and with different techniques. I'll be working in the screen-printing workshop with fabrics of different transparencies. During the spring I started a text based work titled "Does It Take Courage to Embrace (Human) Nature?" and it is within this question I'll be doing my residency based on research and experiments.

During you residency you will have the possibility to meet local artists and to visit cultural institutions: what are your expectations in terms of mutual exchanges?
It's going to be very interesting to meet colleagues and to take part in the active art life of Lapland. When meeting in person there usually is an interesting conversation and common ground that can give new thoughts and insights. Since I spend a lot of time working by myself in the studio in Stockholm, it's going to be nice to be a bit social.
Besides your artistic work at KKV Luleå, you will have the opportunity to travel around Norrbotten. Are there any special places you would like to visit?
Since I've been to Norrbotten a few times I know that there are a lot of special places to visit so I don't have a specific place that I will focus on. I will explore and look for what is to be found. Hopefully I'll meet people that want to show me their special places. I will make a visit to Kebnekaise base camp.

AiR programmes are increasing all around the world. They are becoming more and more important in every artist's career for the professional and research opportunities they offer. What do you think about this?
I think the growing number of artists in residence is very positive. Depending on the type of project and the specifics of the work, there are possibilities to find an AiR that can be vital to the work. For me it's very important because of the exchange of information and experiences. The intense period of time also condenses the work, not giving too much time to procrastinate. Many of the artists I've met during AiR stays are now close friends and whom I share my process with.

Last but not least: tell me a must-have, something that you cannot absolutely forget when packing.
I always pack my bathrobe. It's in some kind of very soft fleece material and was a gift from my mother. Packed in the right way it takes up zero space. It's been travelling with me for some years now and can also function as blanket, pillow, curtain for blocking out light (it's black), extra coat and more. I can relax in it wherever I might be.

Website. www.ninnaberger.com