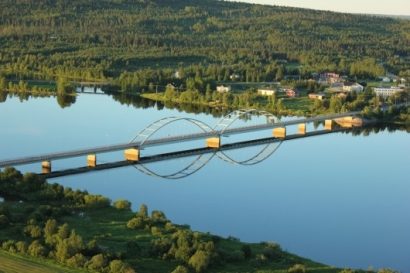 A brief history
Övertorneå is the seat of the municipality and is located at the shore of the Torne River, opposite to their Finnish twin town Ylitornio at the border between Sweden and Finland.
The first traces documenting the city date from the 15th century, even though independence was gained a century later. The main economic and social life of the area revolved around the river, which was used as a waterway and as a source for fishing and agriculture. Övertorneå is a multilingual town (Swedish, Finnish and Meänkieli). It was originally merged with Ylitornio ultil the last Russo-Swedish war (1808-1809), when Sweden handed territories over Finland. Remarkable facts about Övertorneå
Nature. Just like Pajala, Övertorneå is part of the Tornio Valley and offers wonderful sceneries. A rich flora & fauna and stunning natural sites can be enjoyed both in winter and summer.
Churches. Within Övertorneå's district, two wooden 18th century churches are definitely worth to visit. One is located in Övertorneå, preserving a historical organ and the second in Hietaniemi.
Bridge. In 1965, a bridge was built over the Torne River (gränsbron, "the bridge on the borders"), remarking and unifying the borders between Sweden and Finland. It connects Övertorneå with Aavasaksa in Finland. In 2014, Jan Forsmark designed a new lighting system that changes according to the season or festivity.

How to get here
By plane. The nearest airports are located in Pajala (120 km) and Kemi, Finland (120 km).
By bus. Länstrafiken Norrbotten connects Övertorneå to: Pajala (1h 30/50min) Kalix (1h) and Haparanda (1h/ 1h 20min).

Local website
www.overtornea.se

Our residency host and info about the program
We are currently not hosting any program in Övertorneå. But we are collaborating with the municipality and we can arrange activities in the area as part of another residency stay in Norrbotten.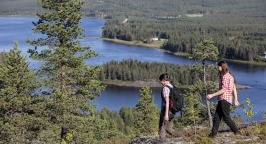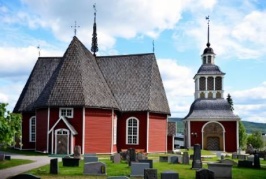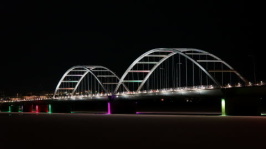 Gränsbron, with the new lighting system by Jan Forsmark