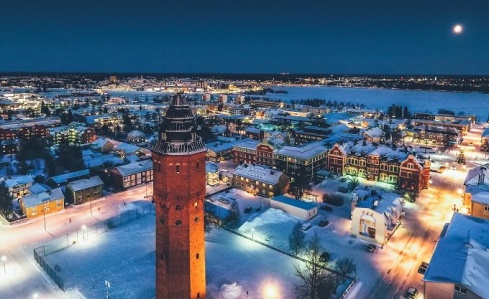 Residency programme.
The artist-in-residence programme HaparandAiR is mainly based in the town of Haparanda and its surrounding. The artist, chosen by invitation or by open call, has the possibility to spend an entire month discovering the local history of the town, besides its cultural and natural heritage. The residency aims at selecting/inviting artists especially interested in socially engaged practices or in being involved within the cultural and social life of the town.

Location.
Haparanda is a small town (4000 inhabitants, 10 000 in the whole municipality), situated within the Torne Valley and at the border between Sweden and Finland. By virtue of its position, Haparanda is centrally located and rather close to larger centres as Luleå, Torneå, Rovaniemi and Uleåborg. At the same time, given its proximity to nature, it is perfect for those looking for a residency outside the urban environment. More information about Haparanda can be found here.

Disciplines & topics.
Visual art | land & environmental art | photography | performance | socially engaged practices

Accommodation.
HaparanAiR hosts 1 artist at the time (+ a possible guest) and offers an accommodation within Svefi Vandrarhem, in the heart of the town, consisting of a room with twin beds and a private bathroom. The facility is also equipped with shared spaces functioning as kitchens and common living rooms.

Studio & technical equipment.
According to their needs, the artist can choose between various workspaces. Among them, two rooms within the train station (that is also used for cultural purposes), one loom-room located within the local Studieförbundet (in the city centre), a common studio shared with other artists and situated in the heart of Haparanda.

Artists within previous residencies.
Maria Nordbäck and Nina Svensson (Finland and Sweden, 2019) | Jennie Olofsson (Sweden, 2020) | Marko Timlin (Finland, 2021) | Oksana Mishko (Ukraina, 2022)

Residencies network.
Swedish Lapland AiR
About us.
The residency programme HaparandAiR is run by Haparanda municipality in cooperation with some local partners.

The residency is intended as a period where the artist has not only the possibility to explore an area dense of cultural peculiarities, as the Torne Valley, but also to discover its artistic, historical and natural heritage.

The following pictures show some of the workspaces offered within the artistic residency HaparandAiR.