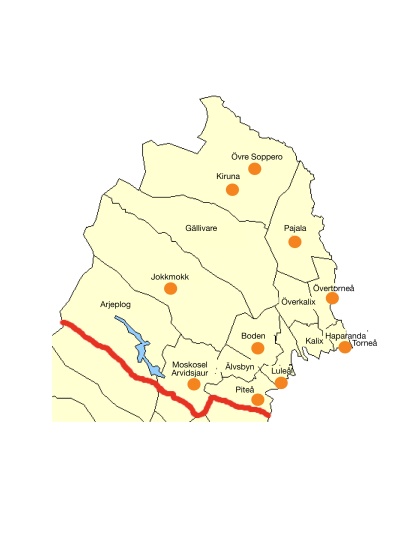 Swedish Lapland AiR is a network for residency organizers based in arctic Sweden. The network is covering ¼ of the total area in Sweden, with a population of 250 000 people.

Swedish Lapland AiR is run by Resurscentrum för konst (Contemporary Art Development Center) in partnership with artists, cultural institutions and municipalities. The residencies are located across eight different places in the region. Shaped by their unique identities, the different sites offer a diverse cultural and natural environment, engaging participants with local culture, art, history and nature. Every residency are a one-of-a-kind experience shaped by the context they are in, spread out from the coast line towards the mountains in Norway and the east boarder to Finland.

Since the first year the network have been running between 4-8 residencies a year through sharing the work, learning together and helping each other. It's a network based on solidarity and sharing. The network is broad in the sense that everyone is welcome, some of the residencies are artist run, some others are run by institutions or municipalities, and some are run in a collaboration between all of these partners. The goal with the network is to build a sustainability and flexibility with the organizers, so they can be the best hosts for the artists.
Swedish Lapland AiR is possible thanks to the generous support given by Kulturrådet and the Cultural Department of Region Norrbotten.
Kulturrådet - Swedish Arts Council
The Swedish Arts Council is a public authority under the Swedish Ministry of Culture whose task is to promote cultural development and access based on the national cultural policy objectives. The Council achieves this by allocating and monitoring state funding alongside other promotional activities. More information about the institution is available on the website.