Karin Roy Andersson | Monica Blind-Påve
About silver, reindeers and craftsmenship
The two craftswomen, Karin Roy Andersson and Monica Blind-Påve will work in Övre Soppero with jewellery, arts and crafts.
What. EMBRACE/OMTAG Artist in Residence
When. Autumn 2019
Where. Övre Soppero, Kiruna's municipality
Organizers. Sámi Duodji (Sameslöjdstiftelsen)
Who. Karin Roy Andersson and Monica Blind-Påve
Website. www.karin-roy.se

Sami language (from the north) / Nordsamiska

GEARDUT
Salastit = embrace
Latnjelassii = wrap-around
Álgit ođđasit = to recommence
Repetitions
Layer upon layer
Pictures that overlap
Carry on the tradition

Common points of contact: Couture and silver, reused material, repetitive pattern
Roll in pattern. Smooth leader. Plastic. Leather, silver, pine bark and birch bark

GEARDUT
Salastit = omfamna
Latnjelassii = omlott
Álgit ođđasit = börja om
Repetitioner
Lager på lager
Bilder som överlappar
Att föra något vidare

Gemensamma beröringspunkter: Sömnad och silver, återanvända material, repetitiva mönster.
Valsa in mönster. Släta senor. Plast. Läder, silver, bark och näver.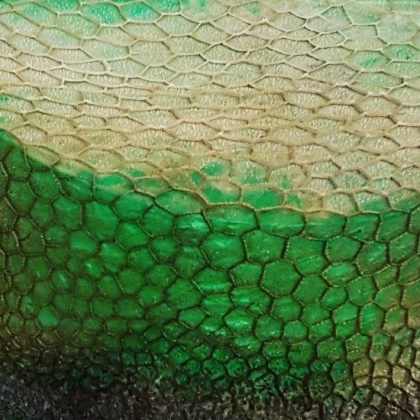 The village Övre (Upper) Soppero, 100 kilometers south of Treriksröset, with its 300 residents is known for multiculturalism, collaborations and creative industry. Sami, Meänkieli and Swedish are all spoken here. Sami craftsmanship is still alive and well here thanks to the many local reindeer herders.

In addition to the traditional Sami industries Övre Sopporo has produced silver smiths of great skill, earning it the title of Norrbotten's silver belt.

Many of the reindeer herding companies are committed to organic processing of pelts, a highly sought-after product. Processing of staple foods and knowledge of native herbs and natural flavoring is an area on the rise. Craftsmen, herders, musicians, artists and designers draw strength and inspiration from each other and the natural elements.
Byn Övre Soppero, 100 kilometer söder om Treriksröset, med sina 300 bofasta är känd för flerkulturalism, sina samarbeten och sina kreativa näringar. I byn talas samiska, meänkieli och svenska. Den samiska slöjden är levande och har sin grund i ortens alla renskötselföretag.

Förutom de traditionella samiska näringarna, har Övre Soppero och närliggande byar ett silversmide av hög kvalitet, och betraktas som Norrbottens silverbälte.

Flera av renskötselföretagen bedriver ekologisk skinnförädling, produkter som är mycket efterfrågade. Matförädling och kunskap om fjällörter och naturliga smakämnen är utvecklingsområden på stark uppgång som en egen näringsgren. Slöjdare, renskötare, musiker, konstnärer och formgivare finner kraft och inspiration från varandra och de naturliga elementen.
The urge to repeat movements over and over again, methodically and resolutely is something that is significant for both my personality and my work - multiplicity and recurrence attracts me. The variations between the details become important creating patterns and rhythms. My aim is to make jewellery where dynamic patterns form harmony and balance.

My latest pieces are made of plastics collected from garbage containers and ditch-banks. I keep my eyes open when I go to the hairdresser; I search in my friends' bathrooms and fridges – you have to be observant if you are going to find that perfect jewellery material. The plastics still has traces from the consumer society, but in the finished pieces, the industrial image has gained a more organic impression.

To me jewellery is communication. The life of a piece starts with an idea or when experimenting with materials. When the finished piece meets an audience another process starts. My experiences are
mixed with the thoughts and associations of others and the object develops. The intimate connection to a wearer and a body makes the relation to the recipient very special.
(Swedish text follows)

Mitt arbete präglas av repetitioner. Ett byggande av formationer där förhållandet mellan detaljerna; rytmen och mönstren, blir viktigt. De små elementen måste skapa en dynamik, en spänning och en balans som jag strävar efter att bibehålla allt eftersom materialet växer. Det blir en slags kaotiska fraktaler som i tillsammans skapar harmoni. Det långsamma hantverket ger tid att låta halvfärdiga idéer och outtalade tankar sväva fritt, ta form och utvecklas.
Jag använder ofta i återvunnet material. Att blåsa nytt liv i överblivna rester och sopor ger tillfredställelse och jag uppskattar att materialet bär på en historia. Jakten på nya material och sedan
växelspelet mellan mig och dess egenskaper är en utmaning och ett drivmedel.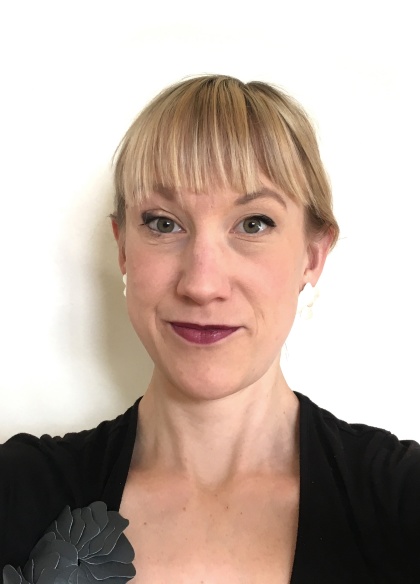 De smycken jag för närvarande arbetar med är uppbyggda av plast som jag samlar in från återvinningscontainrar och vägrenar. Jag spanar på frisörsalonger och fiskar i bekantas badrum och handväskor. Materialet bär spår av sin konsumtionssamhälleliga bakgrund men i de färdiga arbetena har den industriella imagen
fått en organisk och naturinspirerad prägel.

För mig handlar smyckekonst också om kommunikation. När arbetet med att skapa föremålen är över tar en annan process vid. I mötet med åskådare och bärare utvecklas projektet. Mina idéer och former blandas med någon annans erfarenheter och skapar nya tankar och associationer. Den intima kopplingen till kroppen gör det möjligt att skapa en mycket speciell relation till mottagaren. Bärarens påverkan på objektet är oundviklig och spännande.
Silversmith, craftswoman, reindeer herding manager

My mother and father were born up in the mountains in huts in the Sami village of Saaievuoma. I'm privileged to be their daughter. My parents made a living of reindeer husbandry and crafts. I have learned from them and inherited their skills.

In more recent times I rediscovered my father's reindeer's horn knives and was inspired by the patterns he had made on them.
I have integrated my father's designs into my own, using
them to make everything from humble everyday things to silver jewelry and brooches.
I enjoy painting and sculpting our stories and beliefs.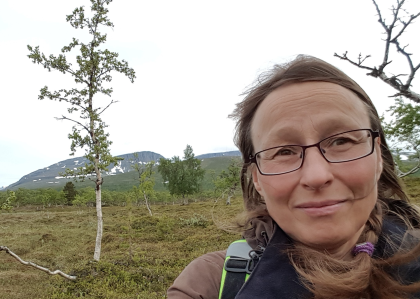 (Swedish text follows)

Silversmed, slöjdare, renskötselföretagare

Min mor och far är födda uppe till fjälls i kåtor i Saaievuoma sameby. Det är en förmån som getts mej att bli deras dotter. Mina föräldrar levde på renskötseln och sitt slöjdande. Jag lärde mej av dem och fick ärva deras kunskap. På senare tid har jag tittat på min fars renhornsknivar och blivit inspirerad av de mönster han använde. Min fars mönster finns nu min formgivning av allt från enkla vardagsprodukter till silversmycken och broscher. Jag tycker om att måla och skulptera våra berättelser och vår tro.

Jag älskar att skapa och känner tacksamhet mot min far och mor.
Det jag har fått ärva vill jag bevara och ge dem nya användningsområden.
Är berikad av min samiska kultur.