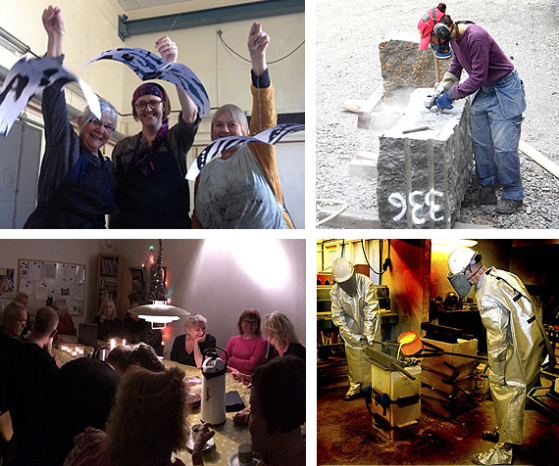 Residency programme.
We are interested to invite artists to have the opportunity to work in our well-equiped workshops, giving them the chance to get involved in an international context.
The selected artists, once introduced to the spaces, equipment and materials, will work independently according to their needs and interests.
During their stay, we would like the artist to present and talk about previous work during an 'artist get-to-gather'.
Please send photos of your previous works, motivating the preference given to KKV in Luleå and specifying what workshop/s you would prefer working in (generally 3 out of 4 weeks of your stay).

Location.
KKV is located in Kronan, a creative district of Luleå reachable within a 30min walk from the city centre or a 7min car/bus ride (bus n. 6). Luleå is served by an airport, a bus and a train station, connecting it to many regional areas within Sweden. To know more about the city, check this webpage >>

Disciplines & topics.
The machines and tools available include: graphics | enamel | sculpture (plaster, concrete, wax, stone, ceramic) | metal castings (bronze, aluminium) | joiner's workshop | digital art.
Their use will depend on the residency's project and specific artist requirements.

Accommodation.
Our guest apartment is located on the second floor of the building. It is equipped with a kitchen, a toilet with shower and a bedroom with a double bed (120 cm-width). Two extra mattresses (80 cm) are also available.
The windows overlook internally to the Monumental studio (no outside view).
On the same floor there are some private studios with a balcony/fire exit and stairs. You can find more information by downloading the following files:
Apartment's plan
Guest studio's info

Studio information & technical equipment.
The residency is based on artistic projects conducted in the workshops.
Spaces and equipment/materials can be arranged according to specific needs (e.g. the Monumental studio is perfect for big scale installations or sculptures).
During your stay, you will also have the opportunity to meet other artists working in their studios.
Currently by invitation only.
About us.
KKV is an Artist Collective Studio (KKV stands for "Konstnärernas Kollektiv Verkstad") based in Luleå.
Among the 21 art collective workshops in Sweden, KKV Luleå is one of the largest, hosting 11 well equipped creative labs.
The following images show KKV's labs and creative spaces: