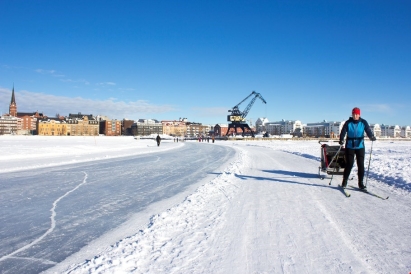 A brief history
Luleå was founded in 1621 around the medieval church in Gammelstad. Due to land elevation, in 1649 the town was moved to its present location nearly 6 miles towards the sea. The river, the sea, the forest and the mining industry are the elements that have historically shaped the city.
In 1856, Luleå became seat of Norrbotten County while the mining ore line opened in 1888. The iron industry arrived in the 1940's, which led to a rapid development and a high population increase. The last official census in 2017 counted 76,000 inhabitants. Luleå is currently Sweden's 28th largest city.


Remarkable facts about Luleå
How to get here
By plane.
The airplane is the easiest way to reach Luleå: there are daily national flights connecting Stockholm Arlanda to Luleå Airport, which is quite close to the city centre. Other connections are from/to Göteborg, Pajala (Sweden) and Tromsö (Norway).
By train.
Every day, there is a night train that leaves Stockholm Central at around 18 and arrives at Luleå Central at 6 o'clock in the morning. The train station is very close to the city centre.
By bus
. Luleå is provided with a bus station: the connections are run by
Länstrafiken Norrbotten
. Main destinations: from/to Piteå (50min); Boden (40/50min); Jokkmokk (1h 30min); Haparanda (2h 30min); Skellefteå (3h); Umeå (4h).
There is also a good local public transportation network run by
LLT
(main connections from/to Gammelstad and Sunderby).
Local websites
www.lulea.se
|
www.visitlulea.se
Our residency hosts and info about the programs
KKV Luleå
>>
Norrbottens museum
>>