CONTEMPORARY ART IN NORRBOTTEN
A text by Jan-Erik Lundström

The current contemporary art scene in Norrbotten is a development of recent date, with a rapid establishment of several leading visual arts institutions in the last decade, enabling a greater exchange between and presence of contemporary art nationally and internationally. In particular, Havremagasinet, the Luleå Art Biennial, Galleri Syster and the project years of Konstmuseet i Norr have been instrumental in this creation of a denser and broader scene. Also, establishing ArtNorth meant an increase in commissions and projects engaging visual artists, in particular in public art projects. All this has happened in parallel with a growing presence of active professional artists in the region, either returning after an education outside at the national academies or developing their profession from their home base.
It is not until the 1960s that a cultural policy appears with an interest in funding the development of public institutions and practices to support the visual arts. Prior to this, the visual arts sector in the county of Norrbotten consists of local amateur artists, non-profit organisations and art patronage. There is an early development in the founding of the city of Kiruna, due to the expansive mine industry, in 1900, that attracts national artists, supported by the patronage of the first superintendent of the mine, Hjalmar Lundbohm - who will develop an ample private collection that later will become the basis of the municipality of Kiruna's art collection, the most important public collection of art in Norrbotten (now housed and presented by Konstmuseet i Norr). Exhibitions are organized as early as 1903 in Kiruna, and the Swedish national avant-garde continues to spend time in Kiruna, fostering the city's reputation as a visual arts hub.

Kiruna and the mountain region of Norrbotten is furthermore an attractive centre as it sustains the leading genre of landscape in painting at the time, a genre that furthermore finds its core in the movement of Swedish National Romanticism from the 19th century. Here art goes hand in hand with the project of national identity building and the colonization and exploitation of the north. Kiruna-based photographer Borg Mesch is a chronicler of this development, as he is of the northern region, including the culture of the indigenous Sami.
The municipality of Kiruna itself builds on the early initiatives and founds Kirunastipendiet (The Kiruna stipend) in 1959, an early artists-in-residence program, that sustains the flow of artists working in Kiruna, and a dialogue between the national and the local scene. From the late 1970s, exhibition venues are developed as well. The town hall of Kiruna is one. Norrbottens museum (the county museum of Norrbotten) and municipally run exhibition venues in Luleå, Boden, Kalix, Arvidsjaur and Haparanda are other examples, buttressing primarily artists from the county and, to a lesser extent, artists from outside the country or leading national artists. Luleå sees also the early 1980s establishment of Fotograficentrum Norrbotten (Norrbotten Centre of Photography), an important organization and exhibition venue for the young medium of photography, where documentary work is seen side by side with independent art photography.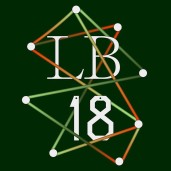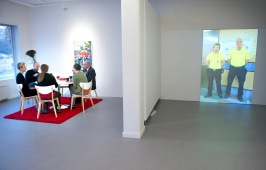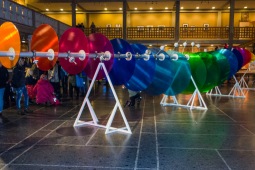 The 1960s and 1970s oversee a range of additional infrastructural changes as well as developments in terms of artistic practices. Many important artist collectives are formed, several in connection with establishing production facilities such as print and graphics shops, workshops for materials such as metal, ceramics, and glass. Konstnärernas Kollektiv Verkstad (KKV), an artist collective workshop is founded in Luleå 1970, around which many Luleå artists gather. Influential painter and draughtsman Mats Risberg is one of the initiative takers. Norrbottens Bildgrupp is formed in 1977, with Luleå as its base. In Gällivare/Malmberget, Tuoddargruppen (the Tuoddar Group) is formed in 1975, linking important artists such as Lena Nallo, Berry Kurkkio, and Nicolaus Skum.
The small city of Boden maintains already since the 1960s a relatively active scene in terms of contemporary art. A loose group of artists named Bodenskolan (The Boden School), mostly painters (with June Montana Lorentz and Bror Zachrisson as two of the most prominent) working together in developing their individual art more than a school with a common aesthetics, exists since the 1960s. The presence of a sizeable middle-class (due to both hospital and military presence) secures a stable interest and market in Boden.

Furthermore, the growing influence of KRO (Konstnärernas Riksorganisation - the union of visual artists) and federal, regional and municipal cultural policy decisions strengthens the infrastructure. Norrbottens läns landsting (The Norrbotten County Authority) extends its policy for art in public buildings and establishes an investment in art linked to all new buildings under its auspices, just as it also extends its reach in terms of purchasing art. Overall, government grants and other funding, expanding institutions and venues, increasing sales, all increase slowly the opportunities for professional artists in the county Norrbotten. Extremely important and influential was also the establishing of Sunderbyns konstskola, a pre-university/pre art-academy artist education in 1963. Near a majority of artists active professionally in Norrbotten today and from the school's beginning, have started their career as students at Sunderbyn (all others have studied outside of Norrbotten or are auto-didact).

Above: a picture from the exhibition "Bodenskolan" at Havremagasinet, Boden

Right: the building of Sunderby folkhögskola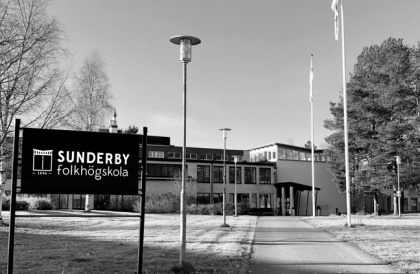 While landscape painting has remained a dominant genre in the post-war decades, there is indeed a range of discursive developments and the contemporary art scene does change dramatically, again, especially in 1960s and 1970s.
Charles Portin is an established modernist already prior to WWII, leaving naturalism behind for constructivist or abstract painting. Leading national artist Alvar Jansson, born in Kiruna, insists of Kiruna and surroundings as motif, but pursues a realist art aligned with sociopolitical content of workers and industry. This is found also in a strong development in graphic arts in the 1970s, a link to the political resistance at the time as well as environmentalist movements. Erling Johansson is an influential painter and object maker, of an expressionist conceptualism, also working with experimental film. Surrealist and symbolist ingredients enter the landscape genre in the work of artists such as Per Fredrik Glommé, Bror Zachrisson of the Boden school or Margareta Renberg and Jan Anders Eriksson. And as a chronicler of the coastal landscape of Norrbotten, Sture Berglund is a draughtsman and painter charting the landscape and its change with a phenomenological precision, approximating at times also a scientific discourse.
Parallel to this, there is throughout the century a tradition of a naivist aesthetics, at times also linked to a folk art - or amateur art - practice. Elis Aidanpää, of the Tornedalen meänkieli minority is an important figure along with Tora Regina Rensgard and Inger Andersson (the exhibition Where Love Is at Havremagasinet in 2016 is an important exploration of this genre).
The development of artist unions, working for the rights and livelihood for artists, is also taking place in the Sami community. The 1978 establishment of Sámi Dáiddáčehpiid Searvi supports the work of Sami artists, including the encounter between the potent tradition of Sami craft/art known as duodji and contemporary art. Britta Marakatt-Labba, active since the 1970s extends a traditional duodji practice in her narratives from Sami culture and landscape in her embroidered works, developing from pioneer Sami artists such as Nils Nilsson Skum, Lars Pirak, Nils Aslak Valkeapää, Iver Jåks and Johan Tuuri. A growing artistic discourse ever since, with artists such as Rose Marie Huuva, Maj Doris Rimpi, and Lena Stenberg to the millennial generation including Katarina Pirak-Sikku, Anders Sunna, Liselotte Wajstedt and Carola Grahn, artists which in different ways articulate and develop artistic practices that are revisionary in terms of colonial history, decolonial, political and activist in terms of Sami identity and human rights.
With that extremely compressed history of the visual arts in Norrbotten as a platform and context, and from that always complexly balanced viewpoint of the present with its built-in blind spots, the contemporary art scene of today is further presented below through short renditions of selected institutions involved in the visual arts today and short presentations of a selection of twenty-five artists active today. Neither listing is complete - even more so with the artists - but aims to give a somewhat deeper sense of what is at stake in the art of Norrbotten today.