A Garden of Eden Flourishes in Jokkmokk
A massive wall stands in the way of the visitors limiting their movements. An animation of a herd of sheep wading through a pond only to be relentlessly swallowed into its depths is projected on the concrete surface. Neda Saeedi's Garden of Eden Moving: A Petrified Tribe looks at events of modern history in relation to the Bachtiaris tribe, how its nomadic culture and way of life dramatically changed when the Iranian state decided to contain them within the boundaries of Shooshtar-e Noe. The town was constructed around the industrial production of sugar with fields of sugarcane planted directly next to it. This is where other local people, just like the nomads residing throughout the region were expected to work. The establishment of this town was part of the Shah of Iran, Mohammad Reza Pahlavis's, 1963 modernisation reforms known as 'the White Revolution'. This not only included the industrialisation of the countryside, but also it was an attempt to 'civilise' the nomadic groups – otherwise in constant movement – independent of state institutions. Their way of life and social structures used to be determined by the livestock, sheep – the animal that provided food, vitally, milk and materials for clothes and other artefacts.
In the last decades, the sugar factory has been leaking toxic waste which have driven one of Iran's primary wetlands to become more of a waste-land. Desertification, extinction of species and more frequent sandstorms are among the consequences.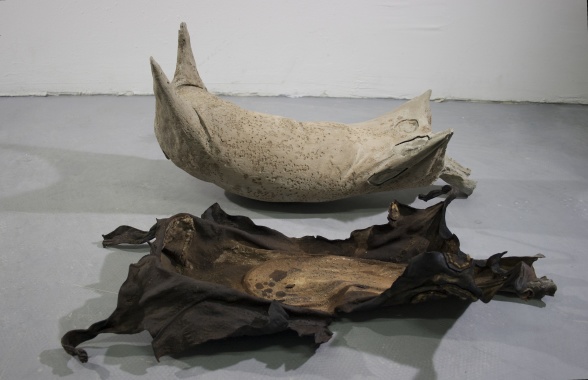 Saeedi works with highly symbolic materials. Control, the significance of the cattle and the double nature of the sugar are all central to the work, referencing on issues such as pollution and ecology, and the formal aspects of architectures of confinement. The figures, made out of candied sugar, recall the addictive sweetness of the ingredient but also its significance
 in regards to deforestation and colonialism. In an audio component of the work, we hear a personal saga reciting the cycles of nomadic life: "For us, migration was life. Reproduction. Movement was survival. No beginning, no end. Our life had no past, no present, neither a future. Migration was space-time continuum. Migration was us. Movement was us."

This work has been commissioned for the Luleå Biennial 2018.

Thanks to KKV Luleå and Resurscentrum för konst Norrbotten.
If you want to read more about her residency in Norrbotten read here.