New residency between Haparanda and Torneå, where Sweden and Finland meet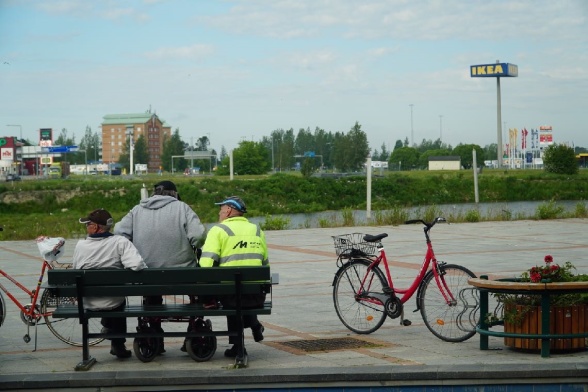 "I Tornedalen finns inga sanningar bara praktiska lösningar och ett gemensamt folk".
"There are no truths in the Torne River Valley. Only practical solutions and a sense of
community amongst its people".

Maria Nordbäck and Nina Svensson have been based in Tornio and Haparanda, approaching places and people around Tornedalen/Tornionlaakso. They have had spontaneous meetings with people in public places, and have also been advised on who to interview. They have gathered stories, gossip and anecdotes about current and historical places, and people, from both sides of the Torne River. Like the story about how the roads used to be better, or about the coffee roasters that was lucky enough to stock up on coffee beans before the breakout of the war. The story about the roasters not only outlines a lucky deal, it is also a story about a child who came alone to Sweden during the war in 1944.

Maria and Nina have learnt about Tornedalen/Tornionlaakso and Meän Kieli, the common language, whose roots still spark debate. Moving up along the river to Övertorneå they hear about the church that was built on unholy ground, and about the wild mangetouts that were not allowed to be the main newsstory in the local paper, "Haparandabladet".

During their stay at Swedish Lapland AiR, the artists will be working individually and as a
team with on-site production. They will also invite local organizations/groups to participate.
Maria and Nina are setting up an ongoing dialogue with people about the place. In this
context, the truth is not always true, but is rather told for practical purposes.

This autumn Maria and Nina will return to Haparanda and Tornio for a workshop and in order to continue their co-operation. Gropen-Kouppa is part of the Nordic project The Barents Triangle.

The title Gropen-Kuoppa stems from the most renowned spot between Haparanda and
Tornio, "Gropen" (=the pit, by the citizens the site is called the pit, but the official name of
the giant project is the Barents Center).

If you have ever been to Tornio or Haparanda, you will have heard that story of the pit.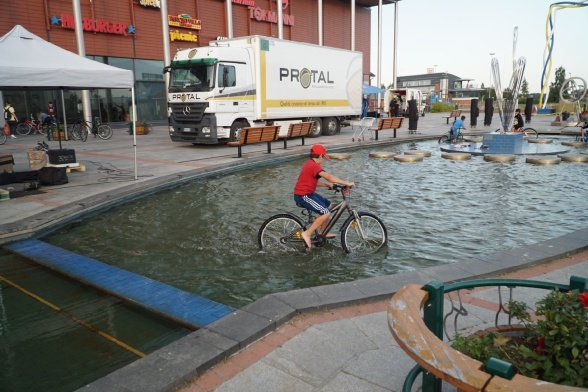 PROJEKTET BARENTSTRIANGEL
Barentstriangel (2019-2021) är ett nordiskt samarbetsprojektet som initierades av konstnärerna Maria Nordbäck (FI), Nina Svensson (SE) och Brynhild Bye-Tiller (NO). Projektet kommer att genomföras i tre olika länder i Barentsregionen under perioden 2019-2021.

Barentstriangel vill gå in i tre olika miljöer utifrån en konsttradition och undersöka olika berättelser, situationer och människor, samt vidareutveckla metoder för deltagande av publikgrupper som en del av konst i det offentlig rummet. Barentstriangel vill utmana och nyansera historien om platserna, landmärken och folket. Genom att kartlägga sociala strukturer, samla och utbyta kunskaper och erfarenheter med lokalbefolkningen och bjuda in olika publikgrupper att delta på de tre nämnda platserna, över generationer och med olika konstnärliga metoder. Barentstriangel vill utmana vem som kan uttrycka sig, vad kan man säga i ett offentligt rum och vilka historier som definierar en form av sanning om platsen.

Projektet har fått stöd av Nordisk kulturkontakt.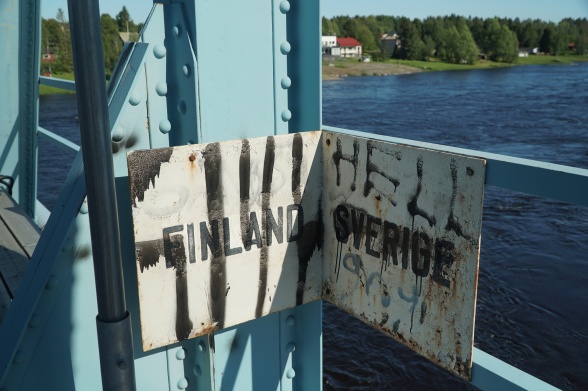 Maria Nordbäck is a visual artist from Vasa (FI). Educated in fine arts at Polytechnic of Applied Sciences in Nykarleby. In 2006-2007 she completed a post-graduate education at Turun Ammattikorkeakoulu within the topic of community-art. Since 2000 she has actively participated in the contemporary art scene. She often works with site-specific projects and
interacts with her surroundings. She is interested in community, social and cultural issues, and she wants to make art visible as a meaningful part of human life. She has created innovative art projects where a large number of people have been able to express themselves in different social issues. Over the years she has carried out a number of her own projects and participated in group exhibitions, published a board game and publications. Her works range from videos, photos, performances, and installations to discussions and handicrafts.

Nina Svensson was educated at the Umeå Academy of Fine Arts. Her artistic practice focuses on social processes where attentive and observant negotiations can make visible the
distribution and valuation of different forms of capital and ownership in contemporary society. Her methods entail a long-term presence-to-place approach, but also the development of trust and a space for meaningful artistic investigations, based on co-operation
and co-creation with people connected to the topic or location in question. Her work is often placed outside the traditional artistic sphere. Svensson mirrors her work on other professions,
such as ethnological field studies. She carries out educational trips, and mimicks popular adult education through educational circles in workplaces. Her main interest lies in moving from presence to place, and she intends to use pre-existing methods that may not always have been very visible, and that may often have been underestimated in contemporary art. This takes place through co-operating with local organizations that share knowledge and create a sense of community in relation to a story, place or craft.